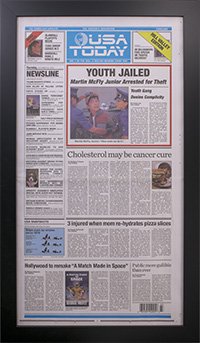 I have a limited number of USA Today's commerative 10/22/2015 Back To The Future newspaper. USA Today has sold out of this newspaper. The price using moulding #203 as shown is $67.35 plus $10.99 shipping. The price using other mouldings range from $67.42 to over $100.00.
You can have this framed using any of the mouldings that I offer. Contact me for more information.
If you would like it framed using another moulding, contact me for a price.